Drum Set Music Games & Drums Kit Simulator
3.22.0
Drum Kit Simulator – Learn to Play the Drums Like a Pro
Do you like playing drums? Want to learn how to play hit songs on the drums? If yes, then you would surely fell in love with this drum kit simulator. Drum Set Music Games & Drums Kit Simulator is a fun game in which you get the chance to play a variety of songs on drums. It enables you to play the drums on the go on your phone. Your phone screen will literally be transformed into a drum set and you can play any kind of tune on it you want. The sound produced by this simulator is very authentic and doesn't differ from the actual drumming sounds. You will come to appreciate the graphics and the slick controls of this simulator too.
Drums Kit Simulator offers two different modes to you. The first one is the Solo mode in which you get to practice playing the drums on a variety of different drum kits. You will find Jazz, Rock, and Dance drum kits as well as Electronic, Ethnic and Japanese drums to practice drumming on. Most of these drum kits are unlocked and you can access them from the Settings menu. However, some of the kits are locked and you need to just play a video advertisement in order to unlock them. In the Solo mode, you don't have to follow a particular song or tune. It is basically a freestyle mode in which you can just tap the different types of drums and see how each one sounds.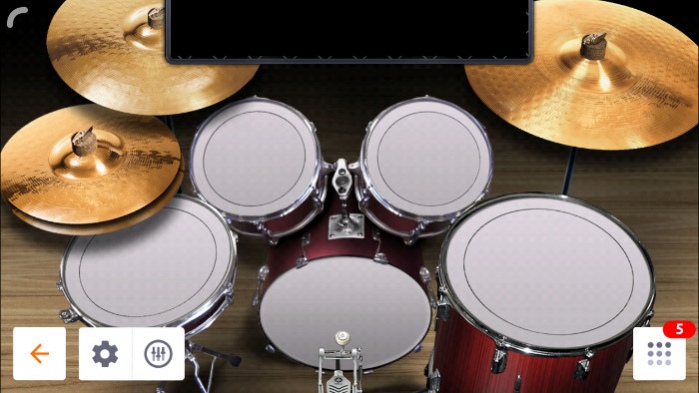 The second mode offered to you in this drum kit simulator is the Songbook mode. In this mode, you are provided with an extensive collection of songs that you can practice playing on the drums. To make things easier for you, there are visual cues and hints on offer that enable you to play the right drum at the right moment. Aside from practicing playing different songs, this mode even gives you the chance to challenge yourself as well. You are awarded scores for all the songs you play from the Songbook. If you manage to hit each drum correctly as per the directions of the visual cues, you will get to boost your score. You even have the chance to share your score with other people via social media too.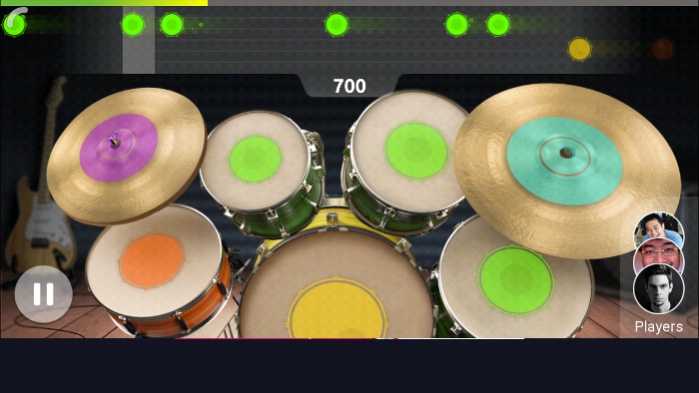 Drums Kit Simulator provides you the option to display the drumsticks while you are playing the drums. This option can be enabled in the Settings menu. Moreover, you will find an advanced mode in the Settings menu of this drum kit simulator too. Enabling this mode lets you see color zones marked on the different drums. These color zones help you in discovering new sounds and allow you to play the instrument like a pro. There is an option available for adjusting the sound intensity of each of the types of drums too. This option is located right next to the Settings icon.
Features:
Multiple drum kits to choose from
Lots of different songs to play
Share your scores with anyone on social media
Solo mode for having personal drumming sessions
Frequent addition of new songs to the Songbook
Conclusion:
Drum Set Music Games & Drums Kit Simulator is a gaming app which is marketed towards music lovers who have a particular interest in playing drums. It lets them hone their drumming skills by providing them a realistic-looking drums kit and also allows them to play all kinds of hit songs on drums. It is an excellent drum kit simulator and you would have loads of fun playing it in your spare time.
---
Add a review
Tell us your experience with
Drum Set Music Games & Drums Kit Simulator
3.22.0
RELATED PROGRAMS
Our Recommendations
---
---
---
---